Beyond Our Galaxy
Summary
THE AUTHOR OF OUR ONDAL WEDDING and TALES OF A HOUSEWIFE presents a different story!!!!!!!


People around me used to say that humans were alone in the universe.
I found that awfully unrealistic. Do they even know how big the universe is? Astronomers say there are at least
one hundred billion galaxies
in the observable universe.
With that many galaxies, the amount of planets that exist could be even 10 times that amount.d
So, maybe we aren't alone. But if we aren't alone,
who else is there
?
---
Wendy
is a rising idol in the KPOP industry. You might recognize the name
Red Velvet,
under S.M. Entertainment.
Characters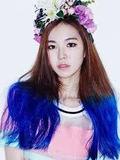 Wendy
A member of group Red Velvet, under SM Entertainment
Chapters