Python [Min Yoongi x Reader] (HYBRID)
Summary
[UPDATES EVERY WEDNESDAY]
"What are you doing?"
"I'm being depressed! Go away!"
"Okay."
"Oi! Come back- I didn't mean it!"
The moment Y/N got a hybrid, she knew her life was about to be turned upside down.

Characters

(Y/N)
This is you. You are, in this story, around 30% of an innocent soul, 3% of a nice person, 6% savage, 1% oxygen and 60% obsessed with food. Because who isn't?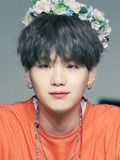 Min Yoongi
He's the python hybrid who sleeps 70% of the entire story, the only person you love more then yourself and the most adorable marshmallow on the planet. Well, according to you, that is. Yoongi begs to differ.
Chapters
It's literally in the title lol